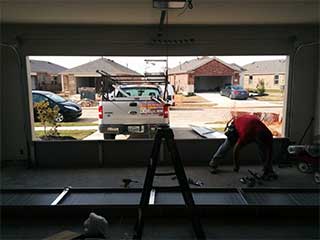 Any system as complex as your garage door needs to be properly maintained. This is not only in order to ensure that it continues functioning optimally for as long as possible, but also to keep a lot of preventable issues from manifesting. The routine maintenance services our team can offer you will make sure of that.
A Complete Examination
There are a lot of moving hardware parts that are involved in the operation of your system. Each one of them has a specific role, and if its condition deteriorates, it could cause a problem and will potentially render your door completely inoperable. The first thing we do during our maintenance appointments is check every inch of your system for underlying issues and evidence of wear and tear damage. Any part that's found lacking in some way will get repaired or replaced on the spot.
Spring Adjustment and Lubrication
As perhaps the hardest working parts of your system, the springs need special care in order to remain functional and optimal. By adjusting their tension and lubricating them upon every visit, our team will keep them from overstraining needlessly and make sure their performance is as smooth and silent as possible.
Preventing Electrical Opener Issues
While your garage door opener can suffer from mechanical problems the same way any other part of your system can, it is distinct in that it can also experience some electrical difficulties. Our technicians will examine its circuit board and electrical wiring, and replace or reattach any part that's either fried or about to become loose.
Schedule an Appointment
Our experts at Garage Door Repair Huntington Station are ready and waiting to help you with any type of problem. We can schedule our services according to your schedule, and provide you with the best solutions to any issue that needs to be handled. Call us today.
When it comes to your door, we don't settle! We also offer:
Garage Door Tune Up Services
Belt Drive Garage Door Openers
Garage Door Extension Spring Replacement