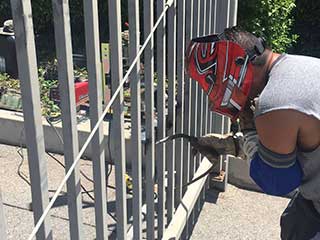 Our company, Garage Door Repair Huntington Station, specializes in repairing and installing automatic gate systems as well. We can recommend the best course of action for any type of problem, and the perform the necessary tasks to perfection.
Commercial and Residential Services
Do you want a plain looking sliding gate to give your home an added security aspect? Or maybe you're looking for a wrought iron gate with a distinguished look that will offer your business more formality and curb appeal? In either case, you can count on our team to help you choose the perfect system for your specific needs and perform the gate installation process quickly and safely.
Intercom System Repairs
Intercom systems are rather complex and their technology changes very fast. This is the main reason why our technicians keep training and learning about the latest trends and improvements in this field. We can repair any type of issue regardless of if you have a landline phone unit or a wireless video system.
Swing gate Hinges
Hinges do not break or get damaged easily. Though, the way they are installed and welded is important to their longevity. Steel materials will develop rust rather quickly if they are not properly cared for. We can lubricate your hinges to ensure their smooth and effective operation, and perform any welding repairs if they are required.
Tracks and Rollers
If you have a rolling gate, both its track and rollers need to be properly maintained. If these components become bent or rusty, they can prevent your gate from moving properly, and can cause it to get stuck. We can install galvanized rollers with internal or external support and galvanized brackets that will help you avoid these scenarios. We can also repair any misaligned tracks or loose rollers.
Contact our professional technicians at Garage Door Repair Huntington Station today to get the best services around.
Want more? Let us take care of:
Gate Exit Sensor Installation